Khadijah's Story
Wednesday, May 5th, 2021
My name is Khadijah, I came to Homespace when I was just 15 years old, and this is my story.
I have 5 other siblings and most of our lives we have been in and out of the foster care system. Most people would say that they can understand what we went through, or even what we are still going through, but in my opinion no one can understand my struggle.
I was 15 years old, just starting out, the most important time of my life as I was going from a child into young adulthood. During my Sophomore year of high school I was having to juggle a lot already! It was on September 3rd, 2018 that I realized my life was about to get a lot more hectic.
I became a mother at the age of 15. Yes, still a child in most people's eyes. Not only was I young, I was totally unaware. 9 months out of my life that I just couldn't understand, my mind and my body were changing. I sat in my hospital bed just staring off, in a daze… A baby? A human being that I would have to feed and clothe, nurture and care for for the rest of my life… Am I ready for this?
That's when I found Homespace. Homespace is truly about Second Chances. We are a community, always here for each other. In a way, we are all a family.
Without Homespace, I don't think that I would be where I am today. Their undeniable support has helped me work towards my goals, and my progress has skyrocketed through the roof! Three years l later and I am now 18 years old.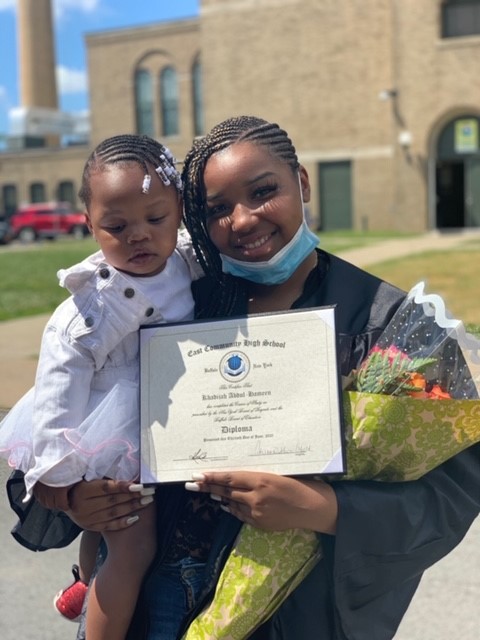 I am a high school graduate and a healthcare worker. I am just starting classes now to become a Licensed Practical Nurse (LPN), and I am on track to move on to the final step of Homespace's programs - living in the community.
I want to thank Homespace for believing in me and giving me the opportunity to make sure that my daughter and I have the best life possible!