The Mothers Day Basket Sale is now closed.
Thank you to all who participated in our Mothers Day Fundraiser!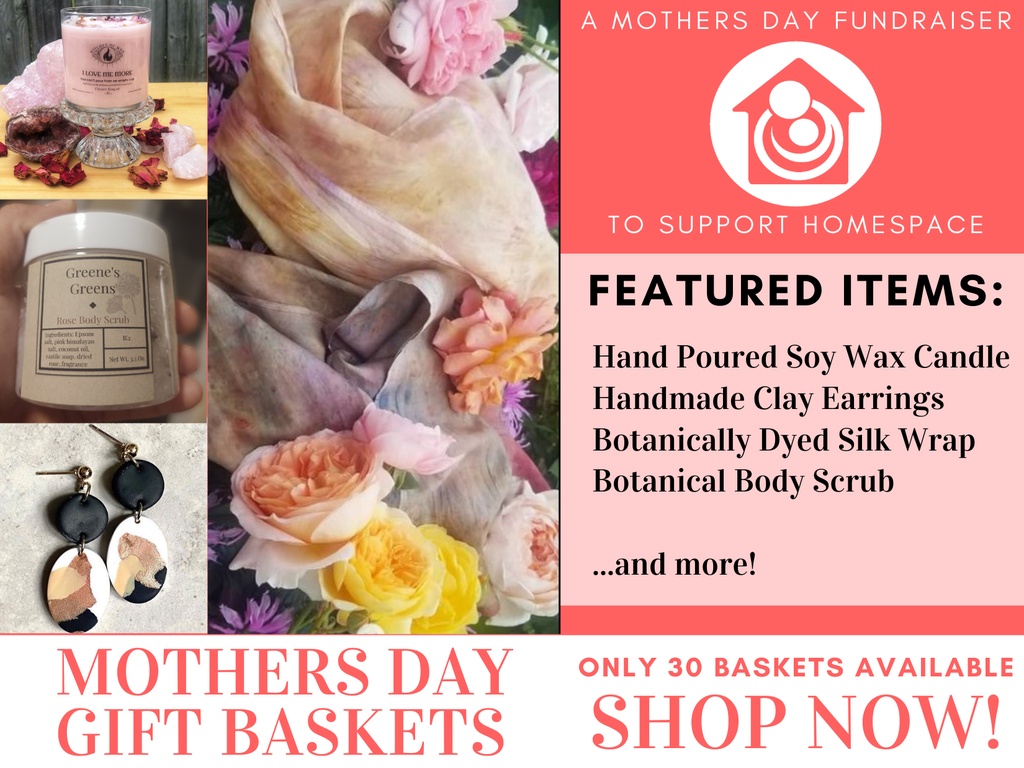 This year Homespace is offering something truly special for Mother's Day!
For $100 you can pre-order a specially curated gift basket for that amazing Mom in your life!
Your gift basket will not only support a group of amazing local makers and artists who all just so happen to be small women-owned businesses - you'll also be supporting the programs and services we provide here at Homespace for the Mothers and families we serve.
Your gift basket includes a personalized letter acknoweldging that a donation has been made in honor of the mother for whom it was purchased. Thanks, Mom!

---
Each Gift Basket Will Include:
One 8oz hand-poured "I Love Me More" Soy Wax Candle made locally by Witches of Wax, an incredible duo of twin sisters Katherine and Kirsten who started their candle business to spread a little magic and bring some light to your life!
One 100% Pure Silk Scarf/Headwrap, hand-dyed with locally grown bioregional botanicals by Nicole Vesio, a single mother operating her own farm, Dreamland, in Eden, NY. Dreamland is a Garden for the New World.
A Pair of Hand-made Polymer Clay Earrings created by Moonbeam Designs, a pair of dental students with a talent and a passion for creating jewelry and supporting local WNY Charities.
One 6oz Gentle Body Scrub, made in small batches, crafted by Sara Greene of Greene's Greens, who built her business after realizing that store-bought products were too harsh for her children's skin. Sara began creating hand-made all-natural body products that are soothing and gentle enough for all ages.
In additon to a few more special items we will reveal soon!
Contact Us
Contact us for any general inquires